'Looking For The Funniest Magician On The Planet?"
We Found Him For You! You Will Love Mark Mysterrio, We Guarantee It In Writing!
"Who Else Wants The Tri-State Area's Funniest Magician At Their Birthday Party This Year?" 
You Do! But, Hey… Don't Take Our Word. Here Is What Other Birthday Moms & Dads Said:
WOW
"WOW! Mark Mysterrio & Miss Direction, your show was a huge hit! Everyone loved it! We had such wonderful feedback."
Incredible
" Mr. Mysterrio your show was incredible! You helped to make my daughter very happy. Thank You!"
Our Son Loved The Experience
Mark your magic show was so compelling, interactive and professional that you created more than a show, you created an experience. Thank You So Much! You Make Our Birthday Party Special.
Bev and Larry Hass
A Magician Saves The Day
Last night we had a birthday party attended by over 100 people. Not everything went as planned and the evening might have been a disappointment had it not been for Mr Mysterrio. 
– Trisha Giana
Your Child Is Turning Another Year Older This Year!
What Are You Going To Do To Make This Birthday Extra Special And Create Happy Memories That Last A Life Time?
Don't Stress! We Are Birthday Party Experts, We'll Help!
My name is Mark Mysterrio and I am a World Record Holder & Magician who is an expert in making your birthday party unforgettable and fun. You may have seen me on TV or listened to me on the radio, seen me at an event or you may not know me at all. Think of me like the expert you may have never knew existed, that's why I, Mark Mysterrio – the funniest magician on the planet, along with my co-star- Miss Direction age going to bribe you silly to try our show.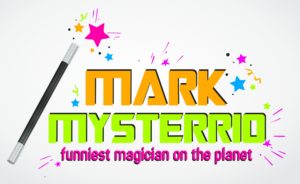 "I'm Going To Bribe You Silly To Have My Amazing Birthday Show
At Your Party This Year!"I'm going to give you FREE Goodie Bags,
Magic Wands, Tricks, Coloring Posters 

And More Just For Trying Out
Our Amazing Birthday Party Show.
That is how confident I am
that my Birthday Party Magic Show is
The Ultimate Birthday Party Magic Show.
I'm going to back it up with a truck-load of value and a written guarantee!
Here We Go, Let's Bring On The Amazing 'Ethical Bribe" Gifts!
Amazing Gift #1: Goodie Bags!
Our goodie bags are stuffed with things the children and parents are going to enjoy.
They add an extra WOW factor to the whole party.
Amazing Gift #2: Magic Wand & Tricks
We give all the children a magic wand that is made of paper.
It is so cool, it has tricks they can do on one side and is made to look like a magic wand on the other.
It rolls up and Tah-Dah…the children can use it to make the magic happen.
Amazing Gift #3 Coloring Posters
It's no secret that children and even adults love to color. I have to admit,
to this day you can find me backstage at my big stage shows with a coloring book and crayons in hand.
We have a kids-sized coloring page that the children can color.
Sometimes they mail them to me after they are done. My walls are papered with all the coloring page
fan mail that children have sent me over the years. Send them to me or they can keep the, but, children love to color our posters.
We Guarantee that with Mark Myserrio's Amazing Birthday Party Shows the children will have a fantastic time and the adults will have a stress free day.
Amazing Gift #4  Bonus Gift:
We can't let the cat out of the bag on this one because
all the other area magicians would hate me
for giving up this gift to you for free. Here is what we can say,
It has a retail value of over $100.00 and it's yours free of charge. 
Amazing Gift #5  Free Magic Gift For The Birthday Child :
It's their birthday…why wouldn't we give them a gift?
We are going to include an extra special gift for the birthday child on their special day.
Imagine how extra special that is going to make them feel! 
Want More Information?
Get In Contact Using One Of Our 3 Methods: #1. Call US: 1-872-21-MAGIC
#2 Email US: [email protected]
#3 Use The Form Below!