Who Else Is Looking For Fair Entertainment Ideas For 2022 And Beyond?
In these tough times it seems harder and harder to keep things together. One year your fair is open and doing good and the next year the world gets hit by a pandemic and everything stops like a merry go round that just stopped at the end of the ride. Let's face it, getting fair entertainment ideas is hard enough to do in a normal fair year. You have so many different people who visit your festival each year that it can be hard to find top notch entertainment that everyone seems to enjoy. You also have to decide which acts to bring back and which new acts to try year after year.
As a fulltime entertainer, Mark Mysterrio understands completely. Mark got his start in the fair business as a magician for a circus sideshow that toured with carnivals like S & S Amusements and others. Mark did fifteen or more mini shows a day as part of his sideshow act, which was open from fair open to fair close. Mysterrio the magician understands that finding fair entertainment ideas can be a challenge as well as an often-thankless job. Fair entertainment directors are a special breed of people, and their talents often go unnoticed by so many people.
This year when you are looking for fair entertainment ideas, may we suggest that you use the services of a magician? Now, we understand that you may have had a magician before. The thing to keep in mind is that not all magicians and not all magic shows are the same. For example, with a band you know what they are going to do. A band plays music and you can find them by looking for the music styles they play, a country band plays country, and a rock band plays rock. However, magicians aren't that cut and dry. Many magicians can offer you so many different and unique shows to fit the needs of your festivals. The great thing about magic is taht a magician's show can appeal to all walks of life and every age going. A magician can entertain from 1 to 100 under the right circumstances. So, as you search the internet for some of the most amazing fair entertainment ideas, please don't let the fair magician go unrecognized. You'll be happy that you took the time to include them when you see all the crowd reactions. If you are super lucky, you will get a magician like World Record Holder & Magician Mark Mysterrio who can offer you a walk around magic show, where he strolls the fair grounds and offers walk up entertainment as well as a stage type show that is highly versatile. You can call him for a free information packet at 1-872-21-MAGIC (1-872-216-2442)

Are You Looking For Great East Stroudsburg Magicians For Parties and Events But Could Use A Little Help?
If you are looking for an East Stroudsburg PA Magician to make your next event unforgettable and fun, you are in the right place at the right time. Mark Mysterrio is a World Record Holder & Magician who has been in the magic business since 1986.
There are many things to look at when you are comparing one East Stroudsburg magician to another.
1. Is the magician a full time, professional or someone who just does shows on the week end? I mean let's face it, if he works and has a full time job, magic is his hobby and not his profession.
2. Does the magician specialize and more importantly, does is work one hundred percent  in family entertainment market? Let's face it, you don't want to hire the guy who is working for corporate America and does birthdays on the side. You want a seasoned professional.
3. Are they easy to work with? Is the magician reliable? You really want to know this before you hire them.
East Stroudsburg Magician Mark Mysterrio is a PA Party Magician from The PA/NJ Area. Mark Mysterrio has been doing Birthday Magic Shows since 1986. Mark Mysterrio, a professional magician since 1986, the star of a DVD series for children, and is working on his own cable TV-Show, "Mysterrio's Magic Happening!" Mysterrio will present wonderful magic where the audience members can be the star of the show.
Master Magician Mark Mysterrio has entertained at, Garfield's in the Stroud Mall, The Shawnee Playhouse, Gorman Chiropractic and countless Birthday magic shows with his unique blend of family fun, comedy, magic, and audience participation! Mysterrio's show has been seen by audiences the world over and is sure to enchant audiences of all ages.
Mark Mysterrio, a life-long Pocono native, appears at about 300+ events annually in addition to appearances at conventions, theaters, and schools across the country. He is highly respected in the magic community as one of the country's leading family magicians, and he recently completed his second book to help guide others in his field.
More About Mr. Mysterrio
Imagine a magic show so filled with laughter and amazement that your guests talk about if for months to come. Impossible? We guarantee it!
Mark Mysterrio is a World Record Holder & Magician who got his start doing magic in 1986. He has toured with a Circus Sideshow and does countless family magic shows each year. He holds 3 world records and was called the 'Nathan Lane' of Magic by Award Winning TV Magician ROCCO.
Mr. Mysterrio checks the EGO at the door and makes YOUR child the star of The Mr. Mysterrio Show. Perhaps that is why Mark is one of the most requested magician in East Stroudsburg PA.
The Mr. Mysterrio Show is tailored to your needs and can run for 30 minutes to 4 hours. It's all about what your event needs. Feel free to contact us for more information by calling 1-872-21-MAGIC or emailing us at [email protected] You'll be happy you did.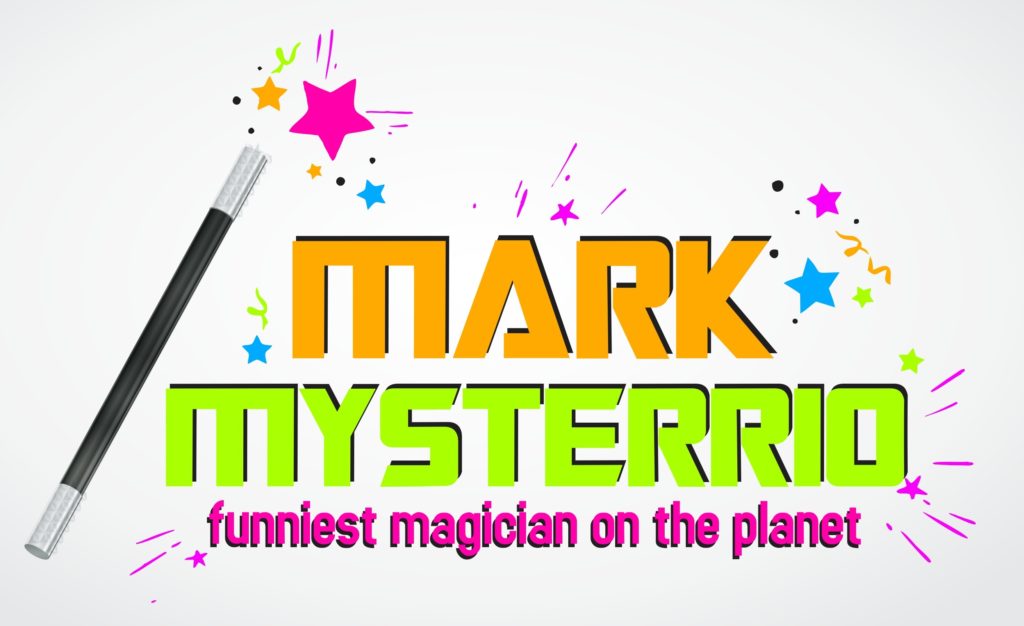 Need to Hire a Birthday Magician NJ Style?

Magic has fascinated young and old alike since the beginning of time. Even the most basic magic

trick of pulling a nickel from behind a child's ear can make them squeal with delight. If you're

lucky enough to live in New Jersey – or nearby – you don't have to look further than Mark

Mysterrio of Birthday Magician NJ to get the best magician for your child's party.

Mark has built an impeccable reputation of delivering a clean, fun and fascinating show for any

event. He's professional and personable – and his love of kids and magic is obvious. As Mark

Mysterrio moves effortlessly through his mesmerizing show, eyes grow larger and mouths gape

open as magic tricks are revealed.

If you're thinking of hiring a clown to entertain at a birthday party – consider the Birthday

Magician NJ instead. Your birthday event is sure to go down in party history as one of the best

ever if you choose Mark Mysterrio – the most entertaining magician in New Jersey.

Who Is the Best Birthday Magician NJ Has to Offer?

Indisputably, the answer to that question has to be, "Mark Mysterrio!" Mark has built a

reputation in New Jersey that other entertainers don't even come close to. He's known as

Birthday Magician NJ and you'll be able to get a good idea of his character and abilities as an

entertainer by checking out his web site.

Mark Mysterrio has been entertaining children and adults for years and his reputation has grown

because people have found they can depend on him for good, clean fun and fascinating magic

tricks that never fail to delight his audiences.

Clowns are popular for kids' parties – and anyone can put on a clown suit and make balloon

animals — but a magician who really knows his stuff is harder to find. Mark has spent years

developing his craft and you can tell by the results how well he's succeeded.

Watch the fascination on kids' faces at the party and you'll be happy you chose Mark Mysterrio

to weave his magic. Birthday Magician NJ is the perfect entertainer for any event.

Who Is The Birthday Magician NJ Parents Hire for Their Kids Parties?

Parents in New Jersey are keen on hiring Mark Mysterrio, Birthday Magician NJ for all their

kids' big events. It's easy to see why when you actually see Mark in action. His love of children

is obvious as he interacts with them and "wows" them with his flawless trickery.

Magicians are lots more fun than clowns – and much more entertaining. It's your kid's special

day – no matter what the occasion – and, when you see the look on those little faces as they're

drawn into the world of Mark Mysterrio's magic, you'll be happy you chose Birthday Magician

NJ for your child's big event.

You'll want to be sure you're choosing a professional magician. Kids are smart and they can spot

a phony a mile away. A timely arrival, knowing how to make each kid (especially the birthday

boy or girl) feel special and knowing the language and tricks that are appropriate for the age

group are all important factors when choosing a magician.

Mark Mysterrio of Birthday Magician NJ has meticulously built a reputation on these factors and

more. He's the top choice of New Jersey parents for kids' events

Growing up in East Stroudsburg , learning how to be a magician was difficult. There was no internet to order magic tapes or books yet. I often found myself begging my parents to drive me to into downtown library or anywhere I could find information on magic . This was because magic shops were located in the big city of NY. The itch to be a magician had set in at a young age. I found the best way to learn magic was to hang out with other magicians! Now, believe it or not, we have two clubs for local magicians.

The first is called S.A.M. The Society of American Magicians is the oldest fraternal organization for magicians in the world. There are chapters all around the world and including here in East Stroudsburg PA. . Back when I first got involved, at 12 years old, kids weren't allowed yet. They had to have a special voting session in order to determine if they could let me in early. I think they could all see my passion for magic and therefore made the exception to let me know. I am forever grateful as I learn a ton of fundamentals at these meetings. My fellow magicians were always very supportive. Back then the meetings would rotate amongst members' homes. I recall convincing my parents to let me go to meetings with my friend and his dad.

The other organization that is represented here is I.B.M. No not the company who makes the computers! The I.B.M. I am speaking of is The International Brotherhood of Magicians. They've always met at magic shows if there was one. However, in this day and age, the club meets at the local library which is not in East Stroudsburg, but, Stroudsburg PA. The one thing I loved is that all of the local magicians in East Stroudsburg seem to get along. Well, I should say, anyone involved with the East Stroudsburg magician club that is. 

Looking for a Stroudsburg Magician is an easy thing to do. Finding the right magic man for your needs, well, that takes a bit more skill. Think about it, not all magicians are created equally. To be perfectly honest, some magicians don't even know why they are the right fit for your event other than they feel they do magic and that should be enough. When looking for the right magic guy or girl, you need to be on the top of your game. It's like war among magicians out there. Each magician will match the other's price or come down by twenty five dollars or who knows what to get the job. Why you ask? Simple, the magic men who aren't working full time are often dead on the vine an chomping at the bit to get work. Let me ask you something, is that really who you want to hire to do your event?

Not every Stroudsburg Magician is dead on the vine and starving for work. Many of the world's top magicians are full time professionals and are making a nice living by doing what they love. When you are looking for a magic person, be that a girl or guy, call on a local magician like Mr. Mark Mysterrio. Mr.Mysterrio is a world record holding magician who has won a few awards in his day. However, that is not what makes him the go to magician. It is his charming personality and the way that he relates to people. That is why so many people call on Mark to entertain at their birthday parties, daycare centers, church groups and so much more.

If you need entertainment and are looking for someone with high quality customer service and a skill level that will impress, you can call on Mysterrio and he will do the very best.  He is the most requested Stroudsburg magician and he has been local to the area all of his life. You can call him at 1 872 21 magic.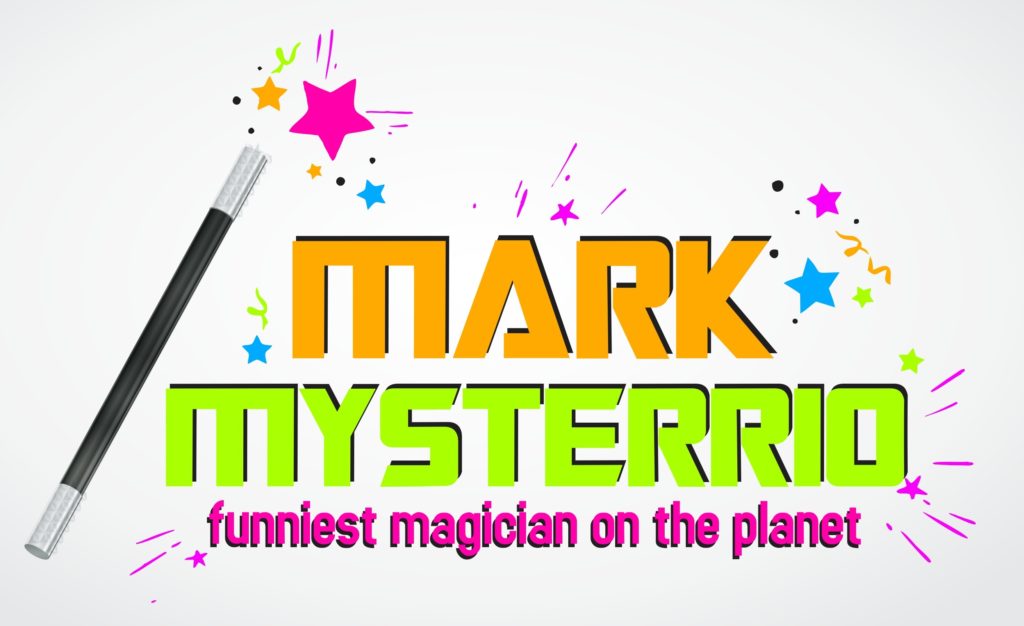 East Stroudsburg Magician Wins Many Awards
Mark Mysterrio has been a pocono magician for many years. He has even belonged to the pocono magicians groups througout the years.In 2018 Mark, along with his assistant Miss Direction, set off to attend a marketing conference designed for magicians, entertainersand speakers. It was Mark's first year attending the event and little did he know that he was about to win three awards.
Three awards is not a half bad accomplishment for a local East Stroudsburg Magician. It is important to keep in mind that this is an international competition and conference. People flock to this boot camp like convention from all over the United States, Canada and beyond. Anyone who meets the the guidelines can become involved wit the contest, however, there are only a limited number of spots available each year.
This contest is not for the faint of heart either. As Mysterrio noticed, you are put to the test when it comes to your marketing skills. You must present tried and true test marketed stuff that gets the desired results just to step onto the competition stage.Mr. Mysterrio knew it would be fun to give it the ole East Stroudsburg University try so to speak. As a result, he won three unique awards.
Mark Mysterrio has held his own as King of the entertainers in the Poconos Magicians ring for a long time, he is the most requested family entertainer in the tri-state area. As an East Stroudsburg Magician, Mark Mysterrio has done family shows, church groups, daycares, assisted living centers, nursing homes, worked for the C.A.B. at ESU and much more. Regardless of where or when people want or need entertainment, Mark Mysterrio is known as the go to guy in magic of East Stroudsburg. You can always reach him by calling 1-872-21-MAGIC even if you just want to see his many awards.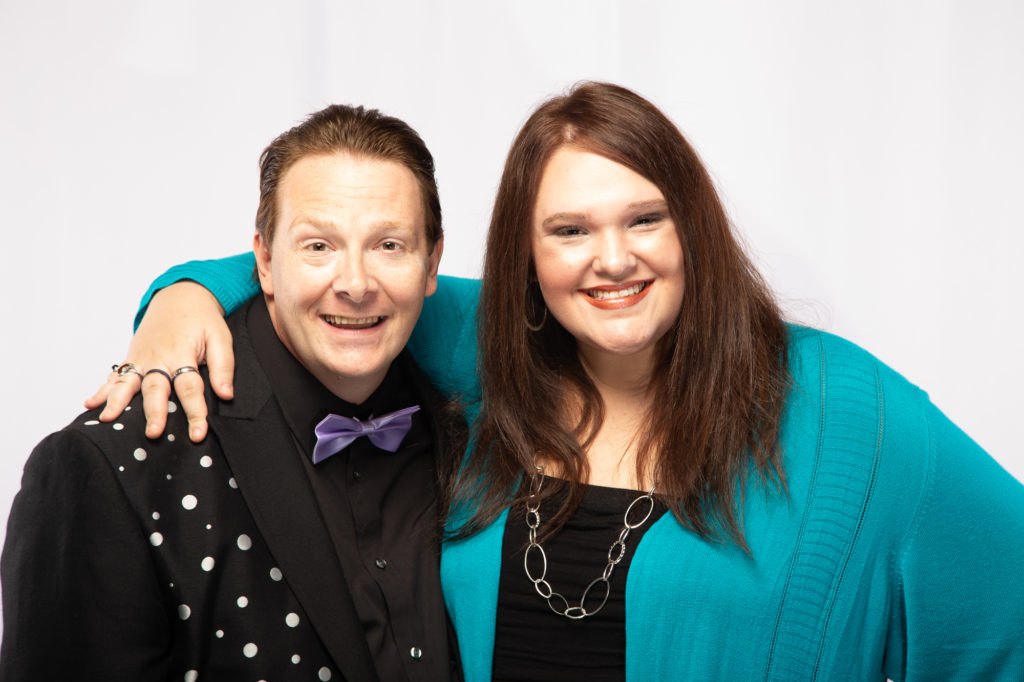 Pocono Magic Club Hits Facebook
The pocono mountains have had a local magic club for a long time. Today it is easy to keep up with all the East Stroudsburg Magicians and every magician in the Pocono Magician club. All you have to do is check out the Pocono Magician Facebook page.
The local President does a great job keeping all of the club members and the want to be members and guests in the know by using the Pocono Mountains Magic Club Facebook page. It only takes a second to log into facebook and see what is going on in the world of magic.
So, if you are a guest in the area or want o become a member, why not contact the President and see when the next meeting is. We know you will have a wonderful time and it is going to be magical too.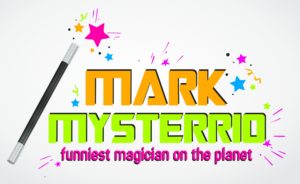 Stroudsburg Birthday Magician Keeps Party Rolling!
As an entertainer I have seen a small truckload of awesome parties in my day. Just so you know, my day isn't over yet, however, my magical day started in 1986 when I was fresh out of high school and needed to find some work that I really enjoyed. As a result, Mark the magician was born. Living in the area of the Pocono mountains, I became a birthday party magician and started to become known as the Stroudsburg Birthday Magician. Yes, I was the guy to call when you wanted the most awesome time at your child's birthday. I have lot's of ways to make your events stress-free too. This is one of the many added- free services I offer people like you who are trying to make the most of their parties.
I know, many people think that as an entertainer all we do is show up at the party, have fun and leave. The reality of the situation is that we do so much more that people aren't even aware of. This includes guiding parents away from little mistakes that we have to spend countless hours learning. Like this one, when your neighbor is a beekeeper and has 15 hives full of bees, I suggested to the birthday mom that we move the sweet cotton candy and sugar drinks away from the area where we were going to have the magic show. Who would have thought that a Stroudsburg Birthday Magician could save the day in this way?  The bees stayed off the children as a result. Nothing against the bees, I am a bee keeper myself and I love them. However, the children do not need to experience a bee sting during a magic show. It's just a simple fix. What did it take to fix it? Countless hours working with bees and children on my part. As a Stroudsburg Birthday Magician, my job is to make your party a success. Regardless of what happens at your event, my job is to keep the party rolling. Here is another example of how this Stroudsburg Birthday Magician works to help keep your event a success.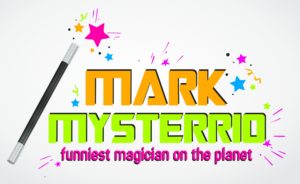 So you started looking for a magician for Halloween near East Stroudsburg PA and you have landed here on the blog page of Halloween magician Mark Mysterrio the funniest magician on the planet. That's Awesome for sure. Halloween is our favorite time of the year and we know it is yours too. This season may be unique due to the Co-Vid-Virus that we have all been hearing so much about.
Keep in mind that it is still safe to celebrate Halloween if you use the suggested guidelines and keep everyone safe. As you search for a magician for Halloween near East Stroudsburg PA, you may want to take your show and your party to a whole new level by going virtual. We have many programs that can suit you and you can see those by clicking here.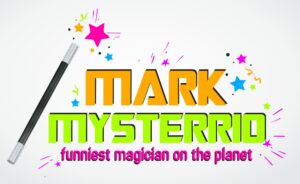 Stroudsburg Party Entertainment
So, you have landed on this webpage because you are having a party in my home town of Stroudsburg. Well, I think that is awesome. I mean, after all, who doesn't love a party right? When you are planning an event, you will want to think about how to make your party the most amazing ever. One of the easiest ways to make your event amazing is to hire some Stroudsburg party entertainment. Now, if you know nothing about which form of entertainment will make your guests happy, that's okay because we are experts in this field. We aren't bragging when we say this, it's just that we have been in this business since 1986. If you don't sure what an expert looks like, that's okay. Well. show you.
See those two people in that photograph? Yep, that's me, Mark Mysterrio on the right and my assistant Miss Direction on the left. We are party experts and we know entertainment like the back of our hand. I've been in the business for over three decades. That's a lot of smiling faces of the years. One of my clients told me the other day that she knew she made the right choice to include our magic show in her all-star line up because I had been in business for so many years, she knew I was a professional. She hired some of the most highly qualified Stroudsburg party entertainment she could find and each act was amazing. I was privileged just to be one of her acts.
The reason I tell you this is not to impress you but to impress upon you that you need to engage the service of a true professional because that is how you keep your guests engaged and highly entertained. You don't need some guy who is making balloons animals or acting like a clown. Even the way some of the entertainers dress is left to question. Don't make the mistake of hiring the wrong talent for your group. Allow Mark Mysterrio to send you his information packet and talk with us about your wants and needs.
We specialize in Stroudsburg party entertainment. It's all we do. Most of the other guys who say they are magicians and entertainers will try to sell you other services that you don't need. Do you really need to rent a popcorn machine? a moon bounce? a candy cart? 2 hours of magic and balloons? Call us and talk about what you really want at your next event and we will help you secure the correct entertainment for your party. Call us at 1-872-21-MAGIC or email us at: [email protected]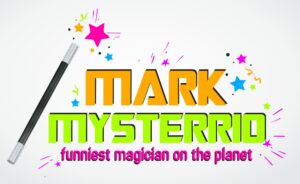 Stroudsburg Theme Party Entertainment
Hey, It's Mark Mysterrio here. You may or may not know me. I live in the area of the Poconos called Stroudsburg PA. Yep, we have a population of 5,486 and is the 6,079th largest city in the United States. That is why you may not know who I am OR why you might not. If you are included in the 5,486 who live in my area, you already know I am the area's most requested magician. On the other hand, if you don't know who I am, just think of my like the local celebrity that you never knew existed. Having said that, I'll still come to your lavish soiree or your back yard BBQ.
If you are having a party and looking for Stroudsburg theme party entertainment, Mr. Mysterrio is your "goto" guy. JunlikeUnlike most of the so-called entertainment that frequents the area, Mr. Mysterrio isn't a clown, he doesn't offer moon bounces or make balloon animals filled with germs, blow them up by mouth and pass them off to little Johnny and Jane. Nope, Mr. Mysterrio is not like the guys from Yardbark Entertainment who dress up and look funny and treat kids nasty. Mr. Mysterrio is the BMW of the entertainment world.
Mark Mysterrio is the funniest magician on the planet. He knows, his mother told him so. Okay, in the real world his clients tell him so. We have no doubt that you will enjoy his show too. He can make any event more special by offering his unique brand of Stroudsburg theme party entertainment that is sure to make the children say Ooh and Ahh. In The Mark Mysterrio Magic Show, your child is the star of the show. Mark knows it isn't about the tricks a magician does, it is more about the interaction with the children and the audience as a whole.
Mr. Mysterrio and his assistant, Miss Direction are full-time entertainers. Most of the other magicians from the area have other jobs and do magic as a sideline business. The old saying that you get what you pay for often applies to magic and entertainment in the Pocono area. Yes, you can find a cheap magician but you will not find a magician with more hands-on experience than Stroudsburg World Record Holder & Magician Mark Mysterrio
Mr. Mysterrio is happy to offer you the finest Stroudsburg theme party entertainment and can fit into any event or theme. Mysterrio loves to enhance events with his unique branding and charming magic show. This can be done from a stage or floor or by his mingle magic walk-around shows. No party or event is complete without Mr. Mysterrio's Stroudsburg theme party entertainment. Call 1(972) 21- MAGIC or fill out the Stroudsburg theme party entertainment form at the bottom of this page. The form simply says: Stay In Touch.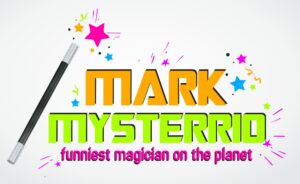 When it comes to a virtual magic show for kids, you can count on the funniest magician on the planet to make sure that your children are entertained. Since many of the magic shows have been forced to go online because often  a live event just isn't possible, Mark Mysterrio wants to make sure that you can have the most awesome event ever regardless of if that is a birthday party event or a magic holiday show or something else.
If you have never experienced a virtual magic show for kids, you and your family are in for a real treat because The Mr. Mysterrio Show has gone online. Many people know the saying, the show much go on, well in today's world the new saying is that the show must go online and it has. Now you can find many top magicians offering a show online and many are not doing outside events like person to person.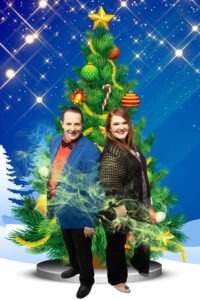 Even our holiday show went virtual this year. You can watch that online by clicking here. Regardless of what is going on in life or the world, people need to be entertained and a virtual magic show for kids helps to accomplish that. It doesn't matter what type of event you are having, we are ready to help you make the most out of it online or offline, just reach out and let's talk about your event.