Important Information About Mark Mysterrio
And How He Can Make Events , Fun and Exciting…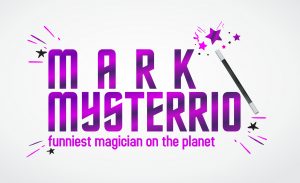 A Proven Track Record…
Mark Mysterrio is a professional magician with over 15 years of experience. He has successfully created and presented programs for corporate clients, church groups and family gatherings, Garfield's Restaurant, Muller's and My Place and many others. Mysterrio's experience and proven track record means that you can rest assured that all of Mysterrio's programs are appropriate, professional and entertaining.
More Than Just An Entertainer…
Mysterrio combines his experience in motivational speaking, writing, sales training and marketing to create unique presentations to fulfill the needs of the community.
Why Should You Work With Mark Mysterrio?
After Mysterrio performed at the Crystal Street Block Party, a woman who had just seen his program, went up to the organizer of the event and said: " I have never been more entertained or had so much fun in my entire life. I'll be talking about this day for a long time. Thank You." If that is the kind of result you desire, than Mysterrio can help you achieve it.  Mark Mysterrio's Goal Is To Make Your Establishment or Event A Success!
Here's What Other People Are Saying About The Mr. Mysterrio Show…
"WOW! Mark Mysterrio, your show was a huge hit! Everyone loved it! We had such wonderful feedback. Your show is always fresh and new even after working with us for over five years."
Wanda Lasher -Chairperson Crystal Street Block Party
" The Mr. Mysterrio Show was incredible! Mysterrio helped to make our guests very happy. Thank You!
Robert Johnstone -The Rainbow Room
"You can't prepare yourself for his (Mysterrio's) Magical antics – because you never know what surprises he's got up his sleeve! He'll make you laugh 'til your sides ache as he twists PERCEPTION into a PRETZEL of PERPLEXITY!"
Stephen Christopher (Mr. Big Top) – Past President Local IBM