Finding A Magician In My Area, Just Got Easy!
Mysterrio Entertainment Group announced today that it is easier than ever to find a magician in your area today. The world is full of entertainers and many of them are taking the show online and offline, even during a pandemic. The great news is that regardless of where you live, searching for a magician in my area just got easier for you and everyone who is searching.
Before you hire any magician or entertainer, including a virtual magician or a magic show online, don't think just because I See Magic that all entertainers are created equal. We assure you, according to our clients, nothing could be further from the truth. I See Magic all over the place and I have never seen the same style and show from any two magicians. Every show and every personality is unique. This is why you need to find a magician in my area who you can know, like, and trust. Make sure the magic man doesn't generalize by offering face painting, balloons, a clown show, or anything under the sun. Your magic show should be of the highest quality and the magician should be a specialist entertainer.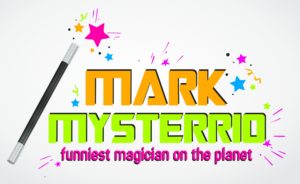 Every magician in my area can do magic. However, terms like the best magician and best entertainer are subject to their client's idea of what best is. Mr. Mysterrio may not be the cheapest entertainer, he may not be the best entertainer for every audience. Having said that, Mysterrio is the most requested and most respected magician in the areas where he works. This is not a title or position that he has taken on himself, these are things his clients have expressed over the three decades of magician service. As you might imagine this is the number one reason that Mark Mysterrio has stayed in business as the most popular magician in my area.
You can call him at 1-872-21-MAGIC or use the contact form on his main page by clicking here.