Living in Pennsylvania is so exciting. You never know what is going to happen. We have so many great things to see in PA. As an entertainer, Mark Mysterrio World Record Holder & Magician has seen a lot and now we are at war with a pandemic.  As a whole Pennsylvania entertainment services are down as a whole. Do you know why? Well, it's not because we don't need to be entertained. It is more because we as entertainers forget that we need to be an entertainer. Too many of us don't know how to change with the world around us. One thing you don't need at your event is an entertainer who doesn't know how to adapt.
Mr. Mysterrio is an entertainer who knows how to adapt to the growing needs of society. When you are having an offline event or an online event, you need serious entertainment. Why not have a party online if that's what we need to do? Regardless of if you need a magician today or in the future, we are ready to meet your needs and demands. The Mark Mysterrio Show along with my assistant Miss Direction are ready to help. You can't beat our unforgettable magic shows for people of planet earth.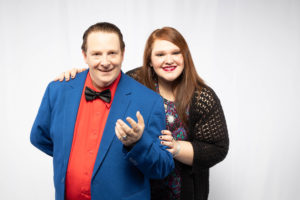 Just because Pennsylvania entertainment services are a bit mixed up right now does not mean that entertainers will not entertain. We are willing to do whatever it takes. So we have a few leaks in a bucket. What are our choices? Well, we can let the water drip out or we can pour some in a glass or drink it. Whatever it takes to save the water, right? Look, I think you get the point. We have choices and we need to use them wisely. It's like hiring a PA Entertainment service, you can opt not to bring an entertainer into your home or you can opt to hire a virtual show. Regardless of what you do, Pennsylvania entertainment services will survive and be ready for you…when you are ready. Book us for a virtual magic show by clicking here.