Discover How Mr. Mysterrio's
Unique Programs Of  Magic 
Can Make Your Center Impressive,
Fun And Unforgettable!
Greetings:
My name is Mark Mysterrio. I am a professional magician and World Record Holder who has created entertainment programs so dynamic and fun that people talk about them for months to come.  No matter where I go, The Mr. Mysterrio Show is sure to please. Why? Because it combines Amazing Magic with Clean Comedy and fun for both children and adults.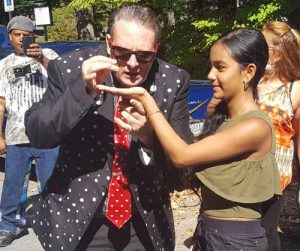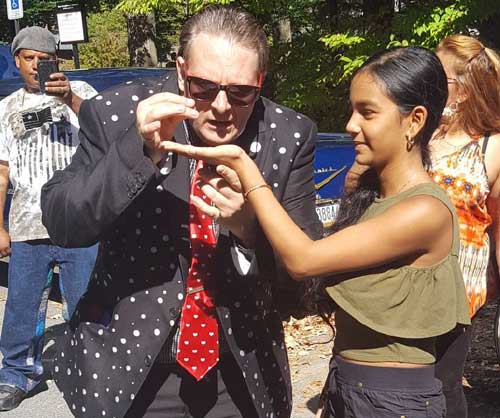 Regardless of when you need entertainment, The Mr. Mysterrio Show is sure to please. In September we spend our days bringing the fun and excitement of pure magic to your daycare and preschool center. This show is a fun based magic show that the children love. Here are some features of the show:
30 Minutes Of Amazing Magic
Awesome Audience Participation
Every Child Gets A Coloring Poster To Take Home
Clean Comedy Fun
And So Much More
Our regular rate for a magic show at a center like yours is $125.00 and we have been told that is an awesome savings. However, we want to come back to your center time and time again…it is for that reason we want to make this show Super Affordable and easy for everyone to host.
"Okay Mr. Mysterrio, Lay It On Me! What's This Awesome Magic Show Going To Cost Our Center And What's The Catch?"
Well, everyone thinks there has to be a catch…so, here it is. In the month of September we are only taking 50 shows at the discounted rate of ONLY $57. Having said that, if you call after we book the 50 shows, you may have to pay full price of $125. Since we don't want to disappoint you, we suggest you pick up the phone and call 1-872-21- MAGIC right away.
Once you call our number, you lock in your position and chances are great that you will be one of the first 50 callers and secure your discounted $57 Magic Show for September. During the month of Aug I did 83 shows, please call now and book your date. The first 50 callers will get the discounted rate of only $57.00 Call us at: 1-872-21- MAGIC
P.S. Just for calling us I'm going to give you a coupon you can use for a future magic show at a special price.
P.S.S. You can also email us at: [email protected]
We look forward to your call and may all your days be Magical!
Mark Mysterrio
Click here to get to our main site.