So you jumped on the internet and you started to search for the terms birthday magician near me. That's awesome! We are certainly glad that you are going to have a birthday party. There are so many reasons why people want to use the service of a birthday party magician and we are sure that you are looking to make your event unforgettable and fun. Lucky for people just like you, that is the real job of a birthday magician. Our job is to bring wonder and create unforgettable memories as part of a birthday event. It's not about the tricks a magician does, it is more about the feelings we help create with the special guest.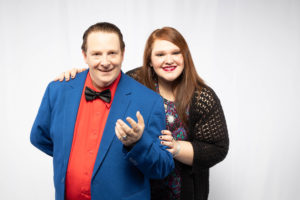 When you type the words birthday magician near me you will be directed to a list of some of the most amazing magicians who are ready to make your event magical. You have to decide what you want the birthday magician to do at your event. Some people want the magician to make the birthday child the star of the show and others want every guest to help with the magic show. Once you know what you want to achieve with the magic show, the magician should be able to help you accomplish it.
It is important to understand that not all magicians are created equal. Magic is a very unique service and as such you have to search out the best one for your needs. When you seek out birthday magician near me you will soon see that there are many people who can service your area. Every magician from national companies to local magicians and everything in between. So, which one is the best for your needs? That becomes a personal choice. While we can't pick out the magician, we can make suggestions.
It is important to keep in mind what you expect of the birthday magician near me. For example, do you want someone who is funny or serious? Do you want someone boring or entertaining and do you want the entertainment to entertain the children only or a mixed audience of parents and children? There are so many factors that go into booking a birthday magician. Many people don't realize that all magicians are not created equal when it comes to things like a children's party. Too often people think that magic men or magic women are going to do the same thing or that they all work for the same cost or that magician entertainment is super easy. The reality is that this is simply not the case.
The solution that we offer is Mark Mysterrio. Mr. Mysterrio does qualify as a birthday magician near me and you may be led to this page when you search. If you want to know how Mark Mysterrio can make your birthday party unforgettable with his birthday magic show, you can call the office at 1-872-21-MAGIC or get more information by clicking here. You will be happy that you took the time to find out which of our many programs are right for you. We have both a virtual birthday party magic show and an in-person magic show and many other options.