Planning a party can be stressful. Having said that, it doesn't have to be if you use the right tools and tricks to make you special day go smoothly. One of the things that many people do is to engage the services of a Stroudsburg birthday magician to make their guests feel extra special. There is nothing like the feeling of experiencing a small bit of magic during a family fun event. However, you must be careful to make sure that you have the right entertainer at your event to prevent a mishaps. You know about that first impression right? Well, it is true with the entertainer for sure. As a result, you will want to make sure that your entertainer makes a positive impression on all of your guests.
How will you know when you have found the correct Stroudsburg birthday magician for your party? Well, lucky for you, you have landed on the page of world record holder & magician Mark Mysterrio. Mr. Mysterrio and Miss Direction are the area's leading entertainers for the upscale crowd. If you want a cheap magician, Mysterrio is not the guy for you because is isn't the cheapest in the area. However, if you care more about the quality of the show and his high interaction level with the children and adults at your event, you are in the right place at the right time for sure. Your guests will be thrilled that you took the time to include Mark Mysterrio and his magic show at your party.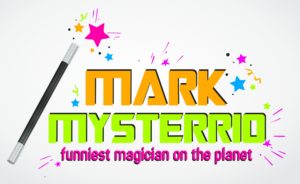 Mr. Mysterrio has been in the magic business since 1986 and has done countless events over the years. As on 2020 he averages around 300 shows each and every year. This includes fairs, festivals, social gatherings and of course, as the most requested Stroudsburg birthday magician. This means that you can rest assured that when you book The Mr. Mysterrio Show you will be getting the highest quality show with an experienced magician. What could be better? Call 1-872-21-Magic to make your next party awesome and fun.